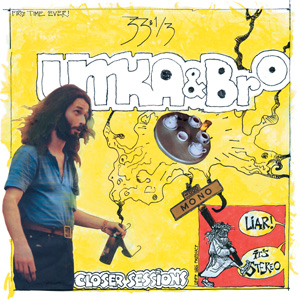 UMKA & Bro
Closer Sessions
In January 2009, after a small private gig in San Francisco, I asked if someone could give us a ride. The guy who agreed happened to be Sergey Varshavsky. During the ride, he told us he was going to start a record label. We asked, as a joke, if he wanted to record us. "Sure", he said. To take the joke further, we asked if this could be an LP. "Sure", he said. So we returned to San Francisco in April, the whole band, to record an LP. The strangest dream was brought to life.
For those who know us, the songs on this record are not new. One may regard this set as a "best of" compilation. All ten songs were recorded anew in Closer Studios, on an old-fashioned, reel to reel tape deck – within a week, which was a pain in the ass, indeed. A week is not much, even if you know the songs very well. Perhaps a week of the lowest downs and the highest ups in our music life.
Working with the sound guys, Joe and Eric, though, was a great experience. At last we were free from the task of explaining what is the "real American analog sound".
Being a professional translator, I am sure that only singing in your own language makes you sound sincere. I've translated some of my lyrics, though, just for fun. (Thank you, Sandra and Seth, for fixing the English versions).
Anyway, we are happy to reach an American audience. Feels like meeting your long-lost brother.
yours sincerely
Umka
All songs by Umka, music by Umka & Bro
Umka - voice
Boris Kanunnikov - guitar, voice, bells
Misha Trofimenko - bass, voice
Boris Markov - drums, percussion, voice
with Mitch Marcus - piano, Hammond organ
Recorded and mixed by Eric Moffat and Joe Goldring at Closer Recordings
San Francisco, CA, May 5-15 2009
Produced by Joe Goldring, Eric Moffat and Boris Kanunnikov
Front cover art - Roman Furman
Front cover photo feat. Boris K. '99 - Pavel Haritonov
Other photos - Umka & Boris
Digital design - Igor Dementiev with Umka
Released by Porto Franco Records (TM)
162 Duncan St, San Francisco, CA 94110
All rights reserved. PFR 2009
www.portofrancorecords.com
All rights kinda reserved
Every fence must have a hole
www.umka.ru
Side A
So It Goes / Своим чередом (lyrics)
Sounds In Your Head / Звуки в твоей голове (mp3)
Train Song / С головы хвоста
Side B
So Far Away / Так далеко (mp3)
Poor Fool / Бедный дурак
I'm Gone / Меня больше нет
Don't You Worry, Mom (Nothing's Gonna Be Alright) /
Не волнуйся, мама (Ничего не будет хорошо) (lyrics)
The Great Pan Is Dead / Умер великий Пан
Voice Is My Home
It is one of the songs fished out of a dream. Many times in my life I got ideas of songs while sleeping, and then woke up and wrote something down. The dream was very beautiful. I tried to describe it in the song: dark hills, abandoned church, four moons in the dark blue skies, and while running there extremely fast, almost flying, I heard this chorus: "Take away my home but leave me my voice." Back then, 13 years ago, I had just lost the place that used to be my home, so the feeling was very fresh and deep. Now I got used to it, ha ha.
So It Goes
Originally, 10 years ago, it was the opening song of the CD called Weltschmerz, - in German, it means "world pain" or "world grief," a term coined by the German Romantics 200 years ago. A feeling that there is something wrong in the world and nobody can fix it. I thought of it when I saw the Moscow TV tower on fire - it was a magnificent view. Just a big big tail of smoke across the sky. Several days before that, there was that story about the Kursk submarine that became a grave for many people. Nowadays we've got used to all kinds of disasters, but then - the same - the feeling was rather fresh.
Mole Hole
A song about the strangeness of suddenly turning into a rock star, emerging from the underground to the bright stage lights and loud sounds. Underground, you feel like a mole playing your own games - and then, suddenly, you discover everyone is listening to you. (Remember Iggy Pop's Success?). Amazing. Also from 10 years ago, and now I got used to it, too.
Voices In Your Head
A funny song about pot smoking, written as a joke specially for an event - we were invited to play at a reggae festival in Moscow. Boris went to buy cigarettes, and I wrote it in 10 minutes. When he returned, he added something, including the chorus, and it was ready. A big hit back there at home, reggae is popular there, even this kind. "Buying wine, pay attention to the cork. Buying flowers, pay attention to the smell. Buying pot, pay attention to the dealer's eyes' expression, and, just in case, try to remember where it happened. And listen to the sounds in your head...". Actually, it says sounds, not voices, I didn't notice my own mistake, but who cares.
Train Song
Just a train song about constant traveling. In Russia and Europe, we travel mostly by trains. It's a pity there's no real possibility to do it in America if you have some goals but just traveling. "The train would stop somewhere wanting to turn, but how can you turn if there's one way?" Nothing in particular. A good chance for everybody to play and dance.
So Far Away
My country is big. Our winters are long. Trains are even longer. When you go by train through the vast snowy fields, sky and earth merge into one never-ending whiteness. It isn't bad or sad, but inevitable. That's it.
Poor Fool
A song about someone involved in rock music in Russia, who wanted to become a big international star but failed. Written in 1991, when the stars of the former Russian underground began making attempts to promote themselves overseas.
I'm Gone
Initially it was my son's song. When he was around 13, and I decided to get back to rock music. Many people used to gather in my kitchen having fun, jamming and making songs (back then I still owned a place to live). So he began singing these words ("I'm gone," or, to be more precise, "There's no more me"), and I continued. First recorded as a reggae in 1995, later it became a rocker due to Boris K.
Don't You Worry, Mom (Nothing's Gonna Be Alright)
I'm sick and tired of this false quasi-positive statement, when you try to assure your parents that everything's alright and will be like this forever. Shit happens. But still, you are very happy to live through it, and you are sure you will win in the end. We used to end our shows with this song. Everybody's going wild dancing their heads off.
The Great Pan Is Dead
June 6 1986, after recording my first home tape with friends, I woke up with this song in my head. "The great Pan is dead" is a quotation from Nietzsche's classic book, Birth of Tragedy. I didn't understand why this suddenly came to me. Later that day, I knew that one of the main characters of the Moscow hippie scene, a poet named Shamil, had been busted - those times being a hippie was rather dangerous in my country. So I continued this song, like, "Alas alas my Indian brother, it's not soon that you get back, you will go to faraway places where holy water freezes in the veins." The song used to be a big hit of our "psychedelic period" when we could play it for 20 minutes and more. Good for an encore, to say good night to everybody.